Where was your proposal?
Providence State House
How did you meet?
It was early April. Emily had just begun teaching at a new school and initially stole Corey's heart by showing him pictures of her kindergarten class's newly hatched chicks. The two spent time getting to know one another while she waited for take-my-time Corey to ask her on a date. April twenty-sixth. It was pouring rain and traffic had made them both late. Emily waited for Corey in the lobby of Hemenway's and says when he stepped off the elevators, her heart skipped a beat. They talked for hours at the restaurant and it was clear neither wanted the night to end. Corey suggested a place nearby and when the two walked in, they were shocked... naked pictures on the wall and people necking in the booth. It was a hilariously awkward scene for a first date. Next. Public Kitchen & Bar. Emily and Corey lost track of time until realizing it was the middle of the night and the bar was closing. It was still pouring and, Corey being a gentleman, opened Emily's car door and paused before leaning in for what would be the first of forever kisses. It was a familiar feeling, that kiss. Everything stopped, and Emily felt like this could be "home." As time went on the list of adventures, and their love, grew. They started to talk about wanting to get married and start a family so, of course, Emily found every opportunity to look at engagement rings.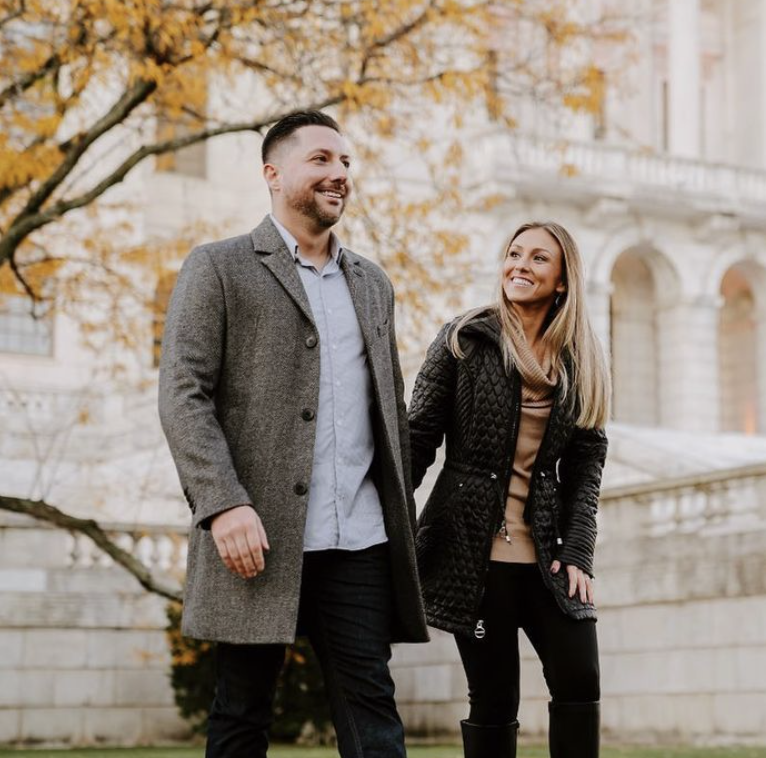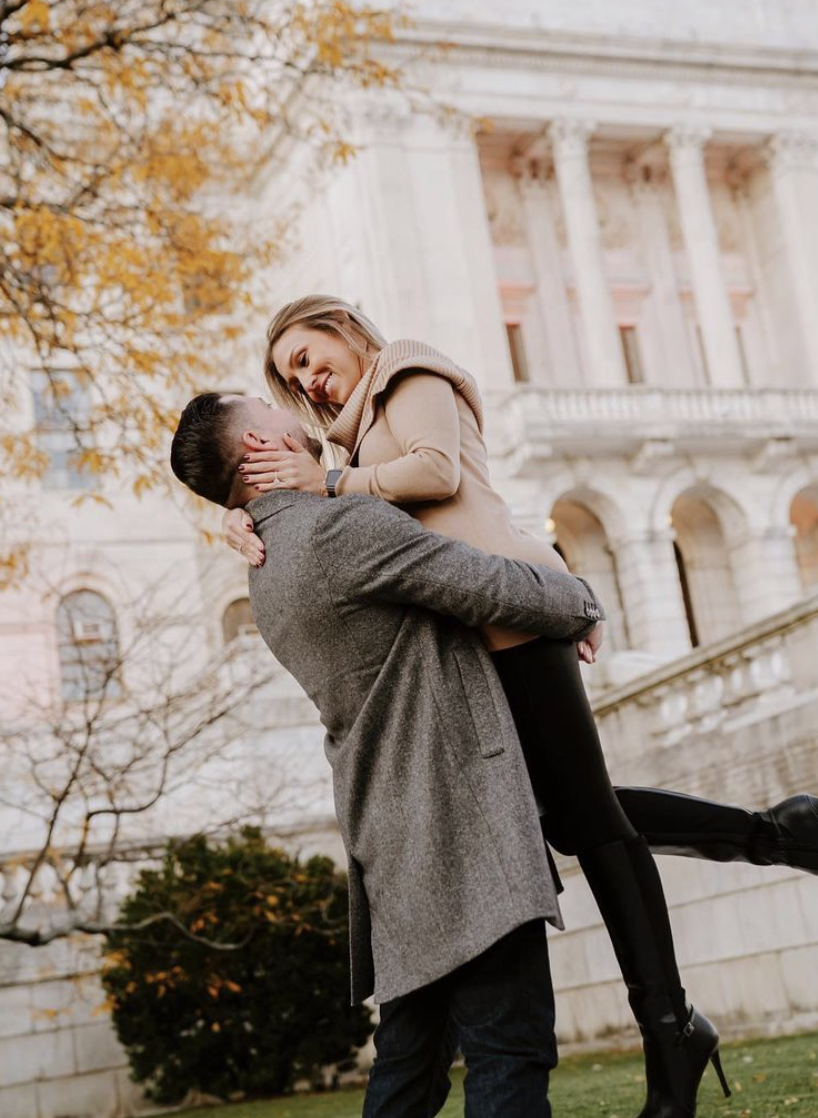 How did he/she ask?
In order to fully appreciate each detail of the story you're about to read, you must know how difficult Emily makes surprises. Emily is always trying to figure out what people are planning, never allowing space to be surprised. Corey, having been planning this day for over one month, was nervous she would figure it out. He circled downtown looking for a parking space - one of Emily's pet peeves. Finally, deciding on a space the two walk down the cobblestone pathway leading to the Rhode Island State House. An unsuspecting, and cold, Emily thought they were going to Water Fire which was in the other direction so she began questioning Corey each step of the way. Corey thought of excuses to appease her need to know everything until, in front of the Rhode Island State House, across the street from where they shared their first kiss, Corey dropped to one knee and asked Emily if she would marry him. Over-joyed and cold Emily said, "Yes!" After a newsworthy proposal (literally), Corey recreated their first date with one amazing addition - he had planned to have their families join them at Public Kitchen & Bar to celebrate and toast to forever. Corey even arranged for Emily's grandmother, who was scheduled to travel to Arizona that afternoon, to be there. Emily had brought her grandmother to the airport earlier that day, but unknown to the all-knowing Emily, they had rescheduled her flight and Corey was waiting at the airport to pick her grandmother up and "hide" her at his soon-to-be in-law's house. Corey perfectly planned a day of surprises and secrets that even the wanna-be-detective Emily wouldn't figure out. Emily, who loves an early bedtime, is so happy she stayed up past nine to meet the man who would become her home.
Tell us your ring!
Where do I begin!? Beautiful oval Diamond that sparkles whether the sun is shining or not!


@emilyhopexo @corey.mcman

Ring: @sylviecollection